DIY Literacy Video Series - Episode 7
Welcome to the 7
th episode 
of our
DIY Literacy
video series! Here are some DIY teaching tools people have been posting this week: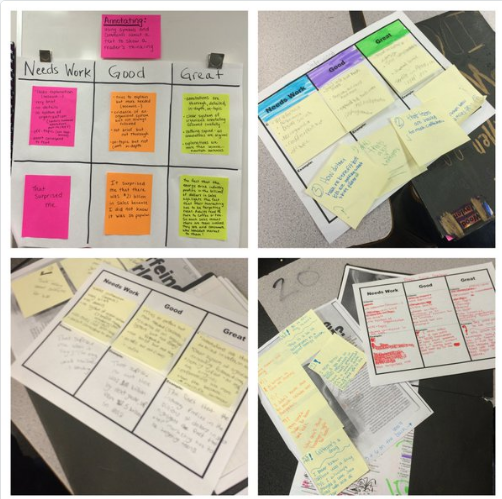 Thank you all for sharing! Keep sharing your teaching tools using the hashtag #DIYLiteracy on social media (and you can always email us a photo at kateandmaggie2@gmail.com).
This week's problem is from Courtney Al Moreno, Middle School Literacy Coach (on behalf of the Middle School Humanities teachers at the American Embassy School in New Delhi, India). They write: 
Problem of the Week  – One of the biggest issues we face with our students is getting the kids to use mentor texts independently.  Our teachers introduce mentor texts in their mini lessons, they go over them with students while conferring and in small groups, they give students copies of the class mentor texts and time for the kids to gather their own mentor texts...you get the picture: mentor texts are being used and when you ask the kids what the most powerful thing has been in Humanities class, many of them say, "mentor texts."
But it seems like as soon as the teacher isn't there, the students forget to utilize the strategy on their own.  Do you have any recommendations about how to empower kids to utilize mentor texts independently?
Teaching Tool of the Week – A Process Chart
You can find a download of the teaching tool here.
Here are links to the professional texts we shout out in the episode - must haves!
Thanks for watching!
-Kate and Maggie
[vimeo 166295341 w=640 h=360] <p><a href="https://vimeo.com/166295341">DIY Literacy Video Series Episode 7</a> from <a href="https://vimeo.com/user50344348">Kate &amp; Maggie Roberts</a> on <a href="https://vimeo.com">Vimeo</a>.</p>