Edublog Awards, #Nerdlutions, and NCTE13: It's About Community, Silly.
     Right before the start of 4th grade, we moved to a new town. One summer night, the neighborhood kids invited me out to play Kick the Can. This was great, except for two things:
          1. I was extremely shy and scared of people.
          2. I had no idea how to play Kick the Can.
     I went and hid. And, not knowing the rules, I stayed hidden. While others snuck out to kick the proverbial can, I stayed hidden. While my peers laughed and ran and shouted, I stayed hidden. When they became concerned because they hadn't seen me for a long time - hidden. Even as they yelled out my name I stayed crouched under the bush I was hiding under. I also cried.
     See, I didn't know the rules of this community, this game. And I was so, so scared of people.
     Now I am a grown woman with friends and a relationship and a career. I like to think that I have developed a whole host of social skills across the years. And yet when faced with a new community, a new game, I feel that familiar fear: What if I do the wrong thing? What if I embarrass myself? What if no one likes me?
     Luckily, the communities I have found in the past two years, both online and IRL, have been supportive and wonderful and warm. They have allowed me my hiding-under-the-bush-moments, and they have coaxed me out gently. This post is devoted to three such communities: The blogosphere, Twitter, and conferences.
1. Edublog Awards:
Awards make me feel like hiding under a bush. And there are so many blogs I love. But here are a few I would love to shout out: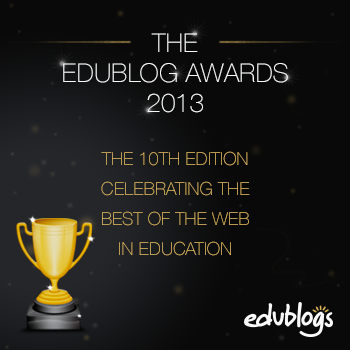 2. #Nerdlution
Recently Colby Sharp and friends kicked off a new hashtag - one that encompasses the absolute best of twitter. #Nerdlution is a way for all of us to stay motivated. All you have to do is name something that you would like to do every day from the next 50 days - and then join the community online to help you stay motivated. Here are my Nerdlutions:
1. Break a sweat every day. If it's good enough for Matthew McConaughey it's good enough for me.
2. Write every day.
Twitter has helped e to stay connected no mater what - now it will help me stay connected to my goals, to what I truly want out of life. Thanks, Twitter.
3. NCTE13
I never used to go to conferences. My introverted self struggles to stay present, to stay engaged with all of the people and stimulus. As those who know me well know - there is a point in every large gathering where I kind of shut down, Tin Man style. But what I have found out this year is that despite my limitations, I LOVE conferences. I love the people that I meet, the rich conversations I have, the way my thinking is always pushed and my heart full when I leave. I may need some strategies for survival (like I blogged last year here) but going to conferences has fed my professional and personal life in ways I did not expect.
So - while there are times that I still may want to hide under the bushes and stay there until every one goes home, I am indebted to the new communities I have found in the past two years.